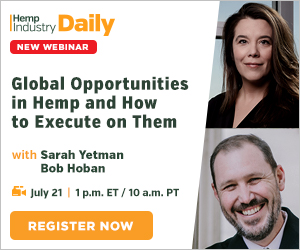 Hemp investors can look at deals both in the U.S. and beyond for money-making potential. In recent years, opportunities to invest in hemp companies have opened up around the world and countries are creating more markets.
In a Hemp Industry Daily webinar, "Global Opportunities in Hemp and How to Execute on Them," on Tuesday, July 21, our panelists – Bob Hoban, founder and president of Hoban Law Group, and Sarah Yetman, CEO of Sovereignport, will examine:
How to identify the best opportunities for your hemp business.
Legal and regulatory considerations in different markets.
The outlook for the global hemp market.
Don't forget to register today to learn about the hemp investment opportunities that abound throughout the world. You can register here.
On Tuesday, the Hemp Industry Daily is publishing a report on the state of hemp in Europe. Don't forget to download your free copy on our website.
Visits: 332